July 5, 2017
FreeThesaurus.com Launches Graphic Thesaurus
HUNTINGDON VALLEY, Pa., July 5, 2017 — Farlex, Inc., publisher of The Free Dictionary, the world's most comprehensive dictionary, announced today that its companion site, www.FreeThesaurus.com, has launched Graphic Thesaurus, a visual word map generator.
When you look up any word at www.FreeThesaurus.com, Graphic Thesaurus automatically renders a diagram showing the top synonyms, grouped by meaning, in addition to any relevant antonyms and related words. The intuitive visual chart allows users to quickly see and understand relationships between words and find the perfect synonym fast.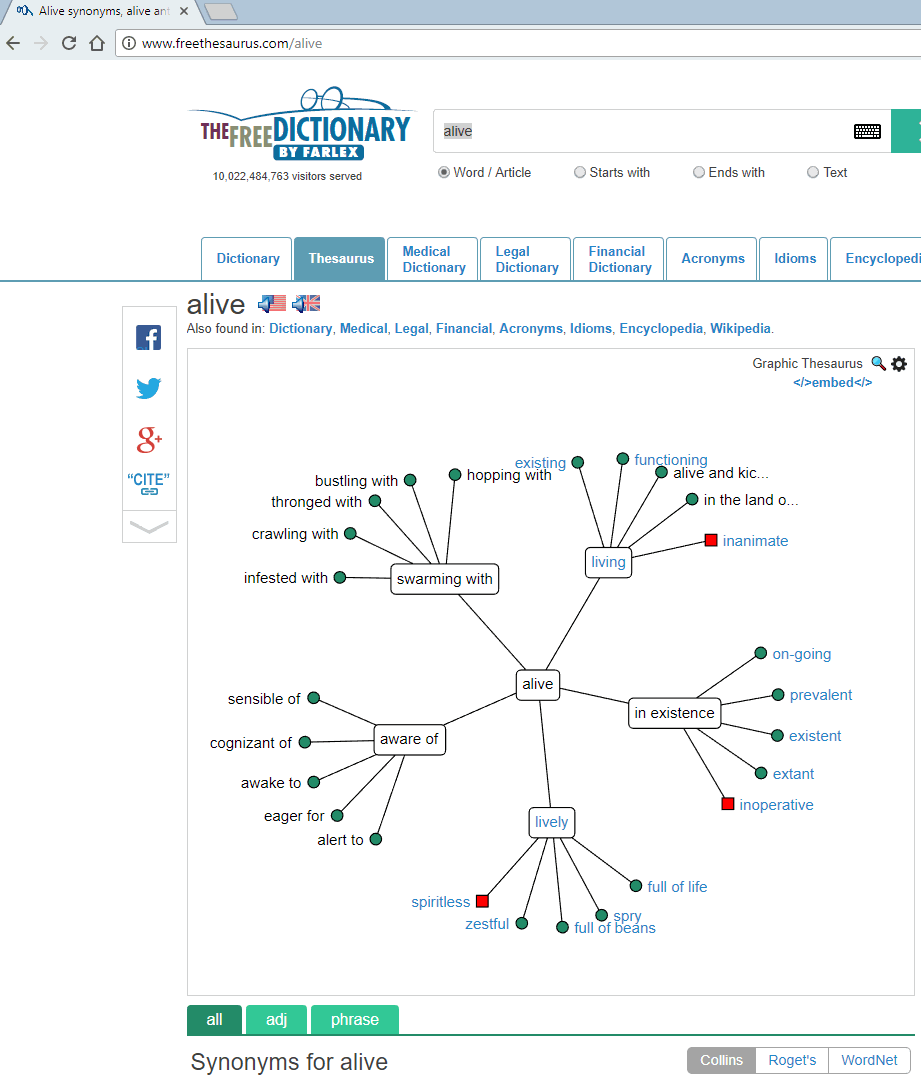 "Like me, many people are visual learners, and they absorb information best when they can interact with a chart or a graphic element," said Steve Boymel, co-founder and vice president of Farlex, Inc. "Graphic Thesaurus works alongside the traditional thesaurus layout to help you easily find the exact word you're looking for, no matter what your learning style is."
Free Thesaurus contains more than 145,000 unique entries from multiple thesaurus sources, and every entry generates its own customized Graphic Thesaurus word map. When users browsing a word map discover a new or interesting word, they can simply click it to explore a new word map and a new set of relationships, allowing for endless exploration.
"Now, more than ever, people care about using words precisely and accurately," said Nick Simonov, co-founder and president of Farlex, Inc. "Graphic Thesaurus is an excellent tool to help understand language by providing a tangible, visual map of the relationships between words."
The Graphic Thesaurus word map for any word can be embedded by webmasters or bloggers on any webpage just by copying and pasting the free code available on every entry page.
About TheFreeDictionary.com:
TheFreeDictionary.com is one of the most comprehensive reference resources online. Launched in 2003, TheFreeDictionary.com has grown to include medical, legal, financial, and computer dictionaries, a multilingual dictionary tool, a thesaurus, several encyclopedias, a literature reference library, and a search engine. A prime online vehicle for active information seekers, TheFreeDictionary.com has been accessed by more than 8 billion visitors. Apps powered by The Free Dictionary have been downloaded by tens of millions of users, with top ratings after hundreds of thousands of reviews.
About Farlex, Inc.:
Farlex, Inc. (www.farlex.com) is an independent, privately held provider of online reference products based in Huntingdon Valley. Founded in 2004, Farlex, Inc. provides innovative, easy-to-use reference and learning tools. Farlex's flagship websites, www.TheFreeDictionary.com and www.TheFreeLibrary.com, contain over 25 million pages of books, periodicals, and reference information from the world's most respected sources.
Copyright © 2004-2022 Farlex, Inc.